Soolantra is a topical prescription cream that is primary used as a treatment for rosacea. Rosacea is a skin disease that causes redness on the face, and depending of the type of rosacea, often with pustules.
Soolantra contains ivermectin as active ingredient and a Cetaphil Moisturizing Cream as basis for ivermectin.
Oral ivermectin is usually used for skin problems when mites such as demodex or scabies are involved, because is able to kill them. Other medicines are also able to kill these mites, but some people see(/hope) topical ivermectin as an effective treatment.
Scabies mites are clearly parasitic and thus unwanted, they usually cause skin lesions and itch. In some countries such as the Fiji islands, it is estimated that a high percentage of 25% of the population is infested with scabies.
But demodex is usually not parasitic, and estimates are that 60% to 100% of the population is infested. Older people are more likely to have demodex than younger people. Most of these people don't have skin problems that can be directly related to demodex, although there is a growing number of studies that show correlations and even causative effects between demodex and rosacea. Demodex is also often involved in blepharitis (eye lids problems), and case report studies also suggest a possible relation in some pustular skin lesions.
According to the Soolantra website, the exact mechanism of action of Soolantra is unknown. Soolantra has the following activities:
Antiparasitic

Antivermicidal
Demodex:
No direct data (not possible to culture Demodex).
Few supporting publications.
Published clinical case series: Demodicidosis, blepharitis, skin diseases.

Anti-inflamatory
Decreases cellular and humoral immune responses.
Parent compound avermectin has been shown to significantly regulate TNF-α, IL-1β and IL-10 in lipopolysaccharide-induced inflammation in in vitro studies.
Although only a small number of oozing yellow crusts suffers have reported to be using Soolantra (users: Tso, RecoverE, Anymnoo, Firstman), these users do report significant improvements. Assuming that there is no coincidence/placebo effect, than Soolantra is probably the most effect known treatment for the oozing yellow crusting lesions. But note that most of these users also used oral metronidazole and/or oral ivermectin while using Soolantra (topical ivermectin).
Soolantra is also easy to use: it just looks a cream without any odor, that has to be applied once per day on the face. While non-prescriptive topical anti parasite treatments often have a bad odor, such as sulfur, neem oil and/or leaf a clear colored layer on the face, making it unpleasant to use these in the presence of other people.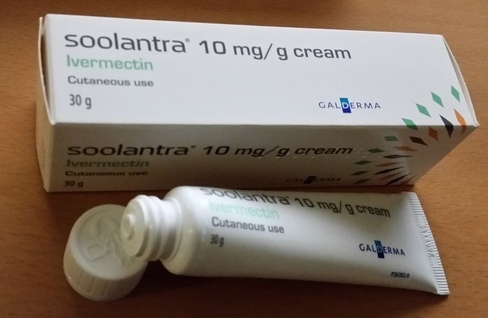 Ingredients:
one gram of cream contains 10 mg of ivermectin
glycerol, isopropyl palmitate, carbomer copolymer, dimeticone, disodium edetate, citric acid monohydrate, cetyl alcohol, stearyl alcohol, macrogol cetostearyl ether, sorbitan stearate, methyl parahydroxybenzoate (E218), propyl parahydroxybenzoate (E216), phenoxyethanol, propylene glycol, oleyl alcohol, sodium hydroxide, purified water.
Although the Soolantra website and leaflet talk about ivermectin as active substance, the ingredient lists shows that it also contains dimeticone. According to Wikipedia:
a silicone oil, which coats and smothers the lice causing their death either by suffocation or dehydration. Most dimethicone lotions do not kill nits because the nits have only one breathing orifice, the operculum, so the dimethicone has less access there.
Soolantra is currently being rolled out in the Western world, so it isn't widely available yet. It is probably available in the US, United Kingdom, Germany and Belgium.
Some people use ivermectin from non-prescriptive animal/horse drugs topically, where is it available for a while.